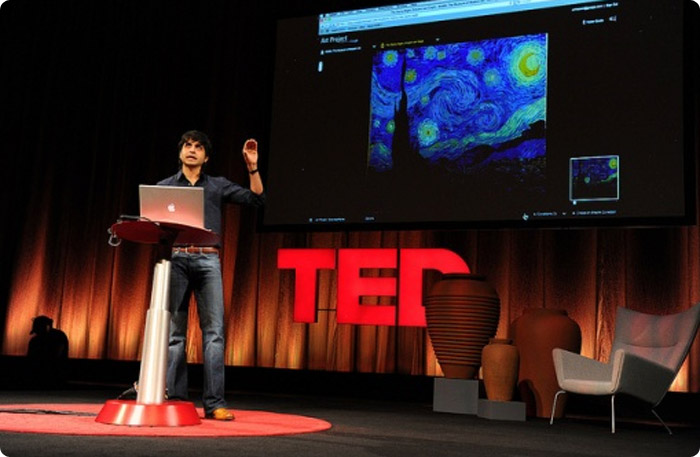 TED LECTERNS
We engineered and built these iconic lecterns for TED Conferences. They were even featured on the front page of Hulu!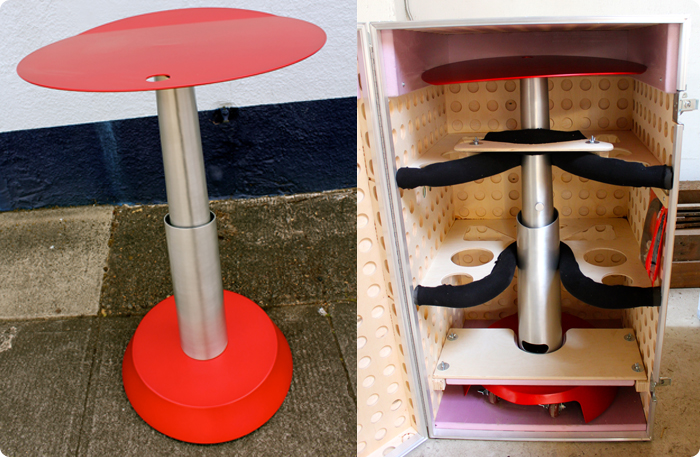 TED LECTERNS
The lecterns feature hand formed tapered aluminum tubes that adjust in height from 42 inches to 52 inches, including a locking mechanism for stability. The aluminum podiums were powder coated for durability and color.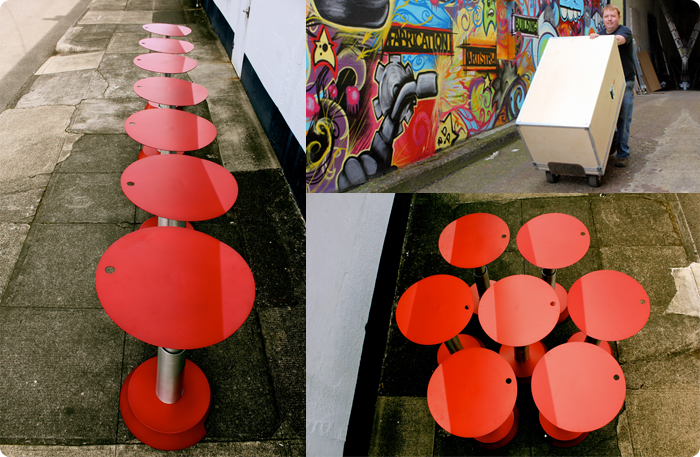 TED LECTERNS
In total, we produced eight lecterns, one prototype and seven official TED Ready products. They are uniform in appearance and function and bring consistency to every stage they grace.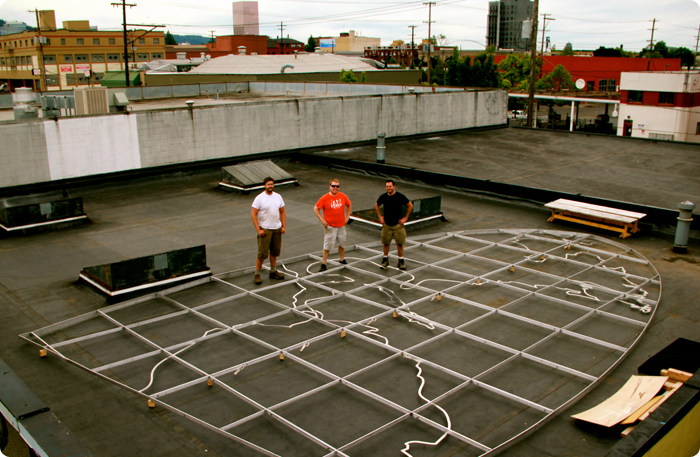 Map of the World
An aluminum commissioned piece for a Microsoft trade show booth ceiling, 900 square feet–its huge!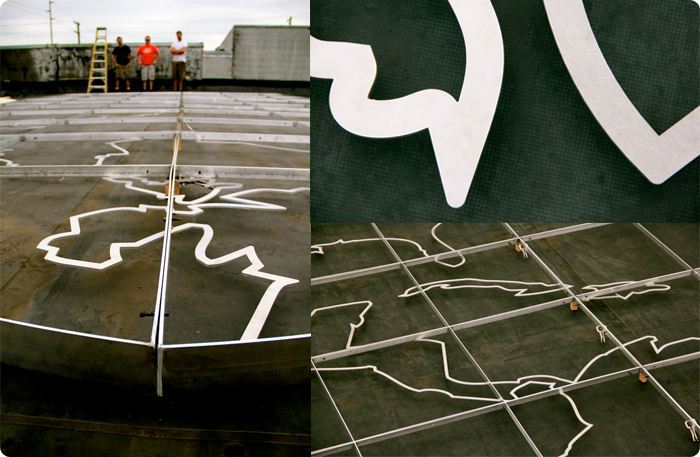 Map of the World
Detail shots of the aluminum Map.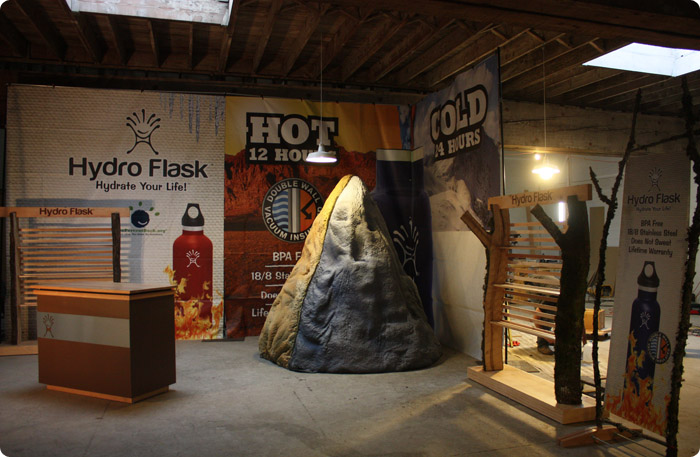 HYDRO FLASK BOOTH
We constructed a 12′ tall mountain (in addition to a few other things) to display the hot and cold abilities of Hydro Flask's product. Construction included a good deal of reclaimed wood and other re-purposed materials.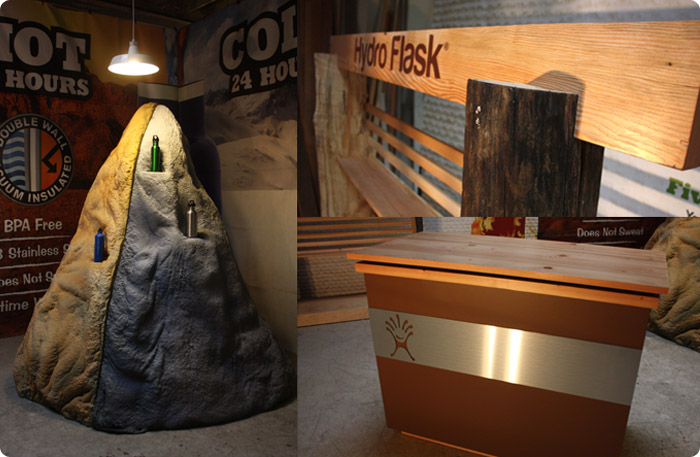 HYDRO FLASK BOOTH
Re-claimed doug fir was used on the bar top and the bottle shelf, as well as naturally felled oak tree limbs from a farm in Linn county, Oregon.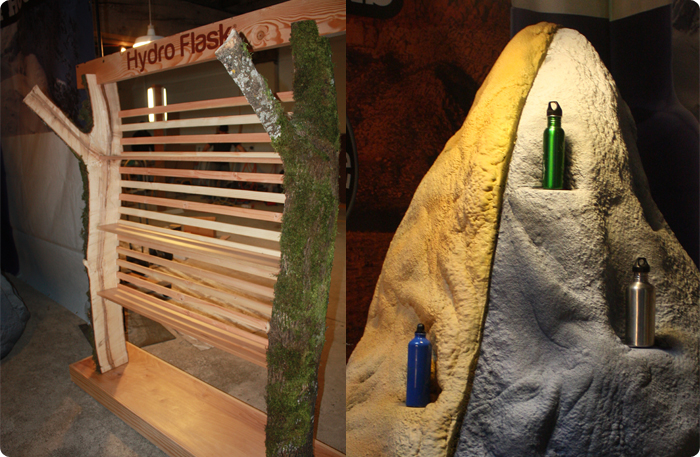 HYDRO FLASK BOOTH
Detail shots…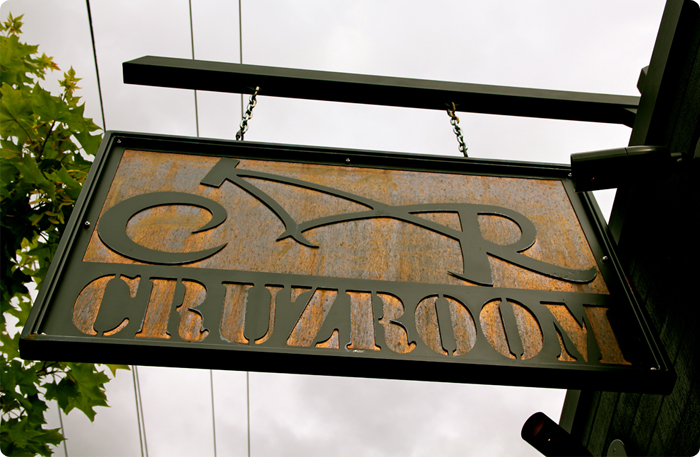 CRUZROOM
We created an awesome sign for the outside of the Cruzroom bar here in Portland.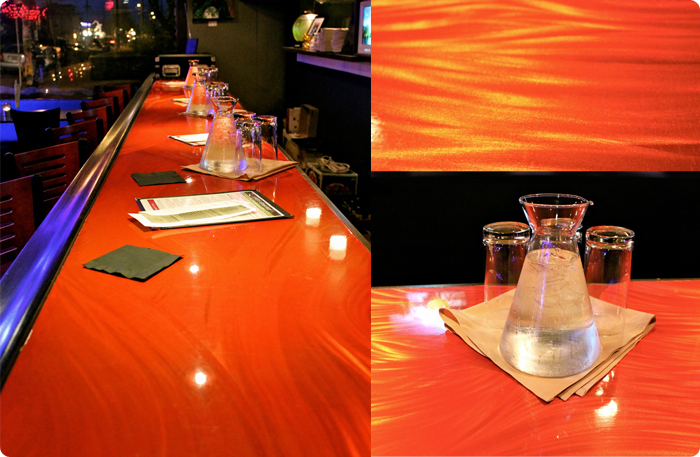 CRUZROOM
We then fabricated this bar top by using a sheet of aluminum and grinding a pattern into it and then finishing it with an iridescent orange powder coat, perfect for highlighting interesting design.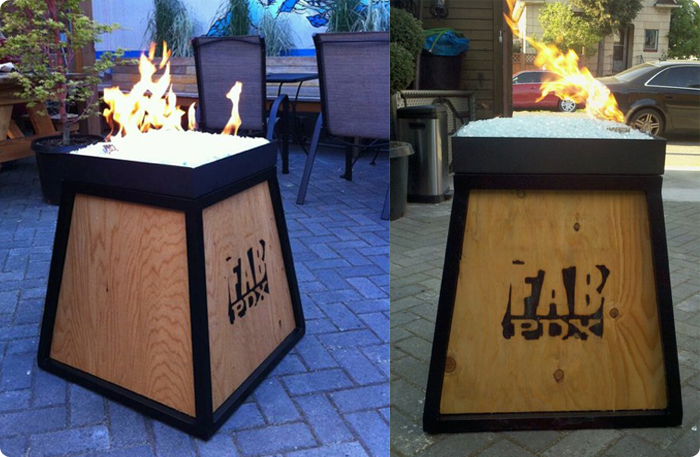 CRUZROOM
We introduced this one of a kind fire pit for attracting patrons to the patio. It included custom metal work, powder coating, and engineering an appropriate gas hookup system to safely distribute the gas for the flame. The top is crushed glass that creates an alluring fire and ice aesthetic.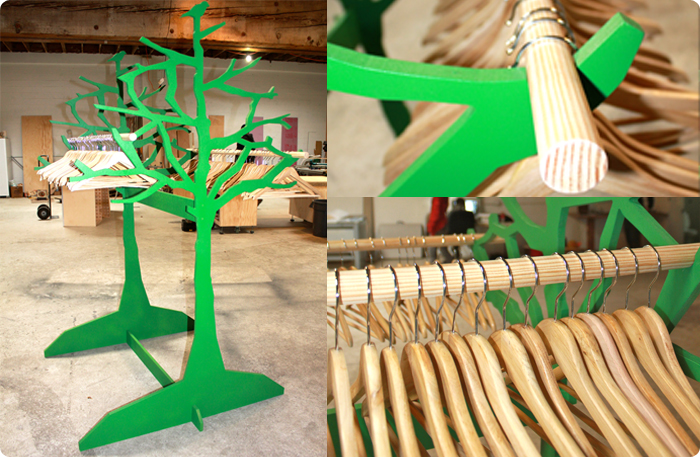 PUT A BIRD ON IT
This is a coat wrack designed in Adobe Illustrator, engineered in SolidWorks, and cut out on our CNC machine.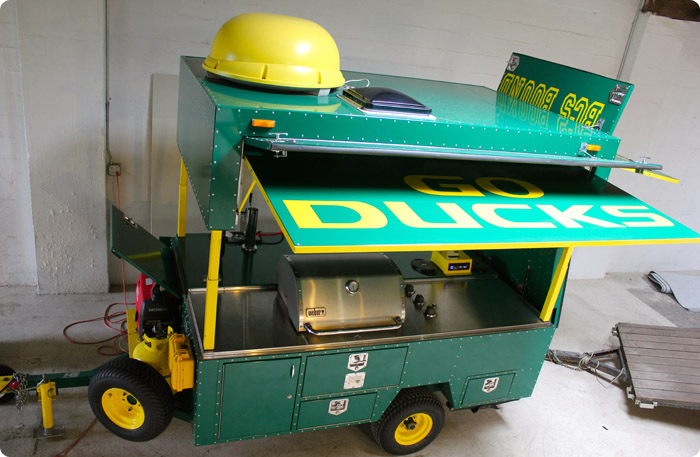 DUCKS TRAILER
This customized Ducks trailer was built from scratch per the request of a devoted Oregon fan. Equipped with a flat screen TV, kegarator, sound system, refrigerator, bbq, and stainless steel counter tops, this trailer rolls up to the games in style.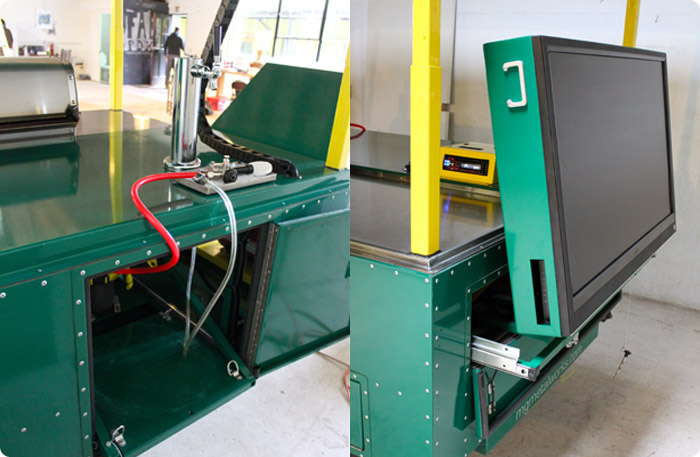 DUCKS TRAILER
Complete with keg hook-ups and a fold out TV to watch the big game!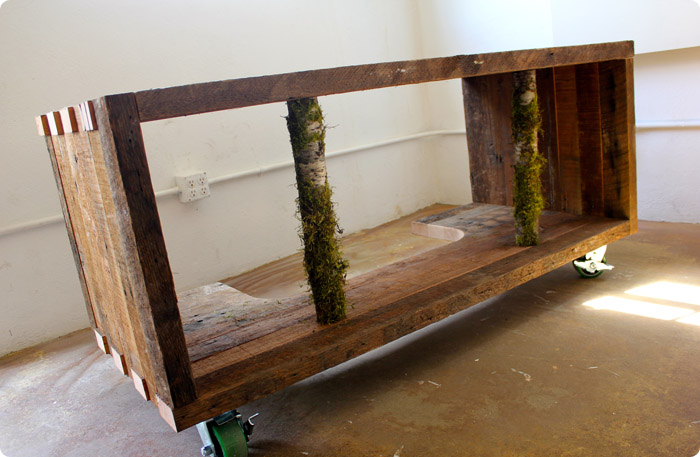 DESK
A custom desk made out of beautiful and characteristic old-growth fir.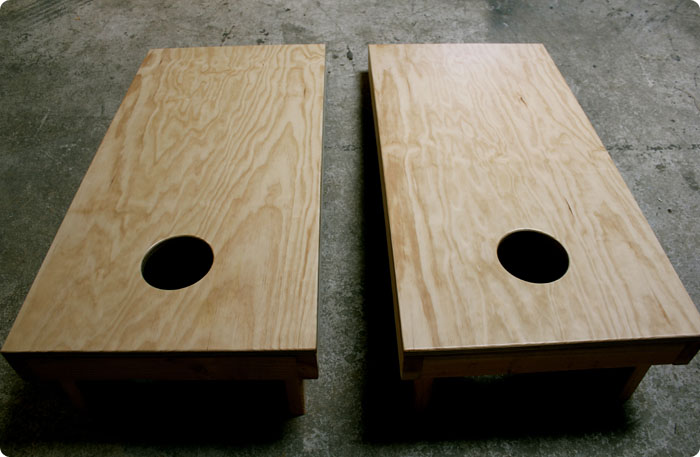 CORNHOLE GAME
Authentic Midwest-style cornhole fun!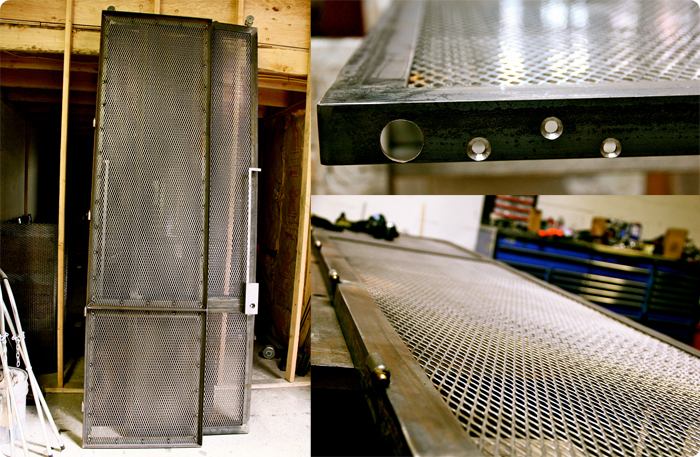 Steel Doors
For SchoolHouse Electric and Bamboo Revolution.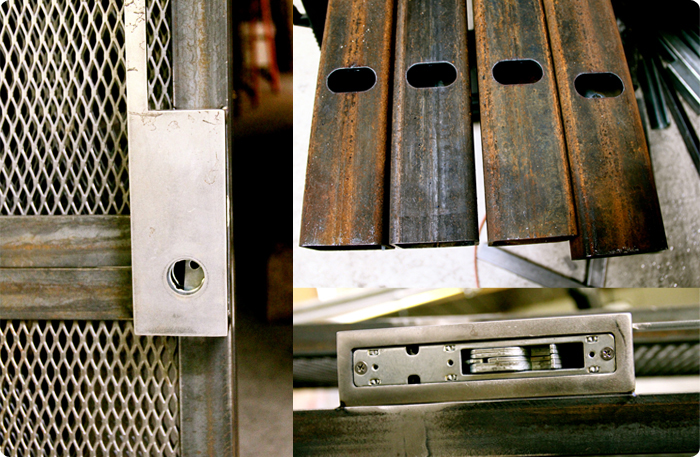 Steel Doors
Custom lock boxes built specifically to fit the aesthetic of the steel doors.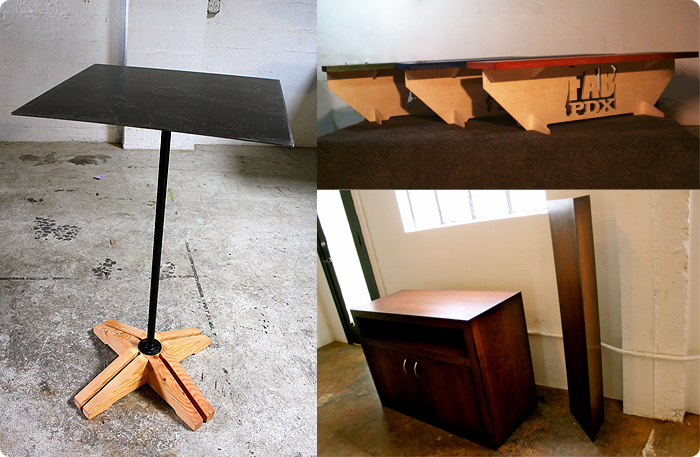 Misc Projects
These are an assortment of pieces showing our varying levels of ability and craftsmanship.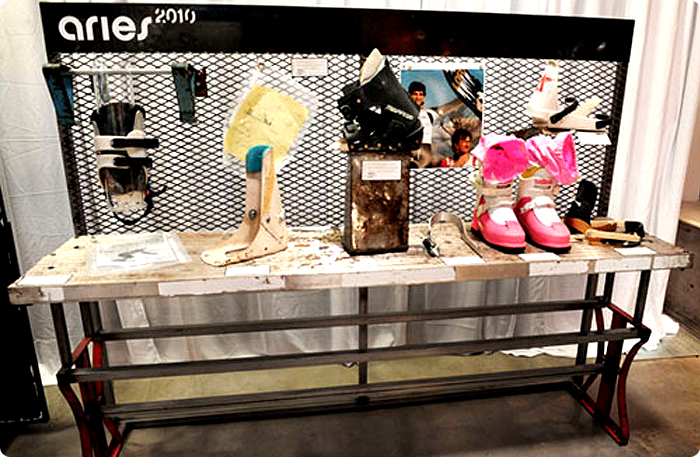 Nike Aries
These product displays were built for the Nike Aries 2010 project at the Olympics.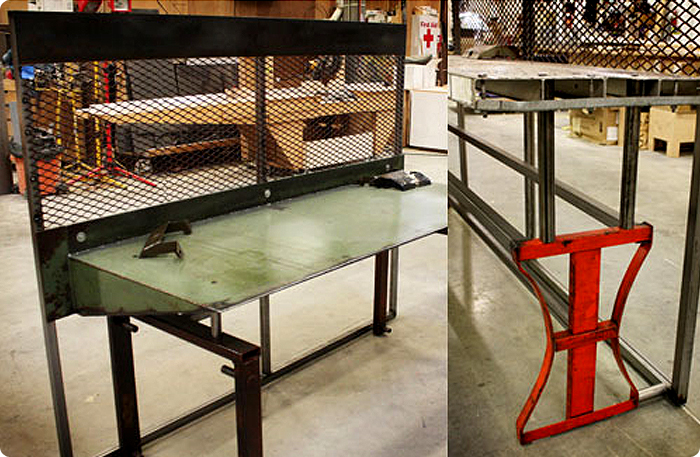 Nike Aries
All of the materials were found at a scrap yard and re-purposed to build this display.