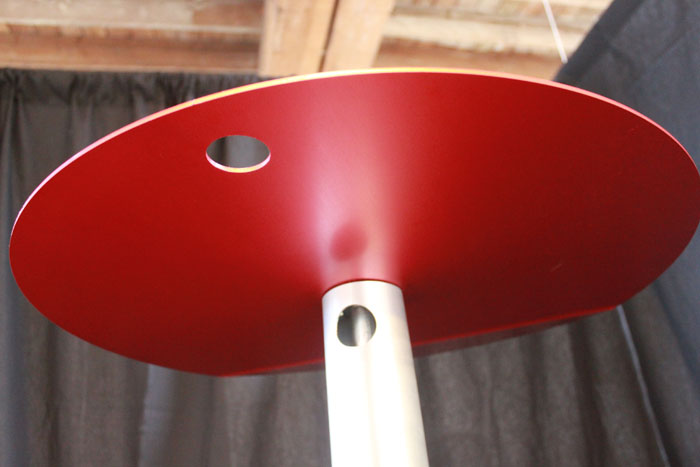 So, who knew a tapered aluminum tube was so hard to make! I didn't! But, upon our assignment (seven custom lecterns for Ted Conferences) we got to work figuring out just how to accomplish this task that many metal fabricators found impossible.
Our team put their heads together to figure out just how to complete the task. This was what we needed–seven furniture grade aluminum lecterns, with an anodized natural finish–sounds doable, but HOW?!?! The necessary gauge of aluminum is about as easy to tame as a herd of wild prairie horses. Lucky for us, we have a team of natural problem solvers and as they dove deeper into the problem, they found answers.
Michael was the lead on the project, as he is our expert metal fabricator. He started by creating photo realistic 3-D drawings in CAD. This gave him a better understanding of each piece and what was necessary to make this product functional. The lectern needed to be easily heigh adjustable, light weight, durable, and most of all stunningly beautiful. With each drawing, he and the designer (Daniel Tu) found the items that could be eliminated to make the product more functional and attractive. Step by step, Daniel and Michael worked through the process of finalizing the engineering until at last, we go the thumbs up and Michel could get to work.
Michael labored through the night perfecting the taper. He cut out a significant piece of the sheet metal and then welded a seam that he carefully sanded down to nearly invisible. After this he cut all of the separate pieces necessary for the lectern and had them anodized to be vibrant red for the base and the top and a clear matte finish for the mid section. Following the anodizing Michael built the innards and created a functional adjustment mechanism before installing all the separate pieces to create a final product.
Now that the prototype was complete, we needed to wait for Daniel Tu to visit our shop and inspect the work. The lectern looked stunning against the black background and gray carpet we had displayed it against. Daniel arrived on January 26th and was very pleased with the product. There is something very enchanting about watching a designer see their design actualized into a real tangible product for the first time.
As of now, we are making a few adjustments to perfect the lectern and then the production of the seven lecterns will begin. Stay tuned for more lectern news.